Professional Sidewalk Cleaning In Fairhope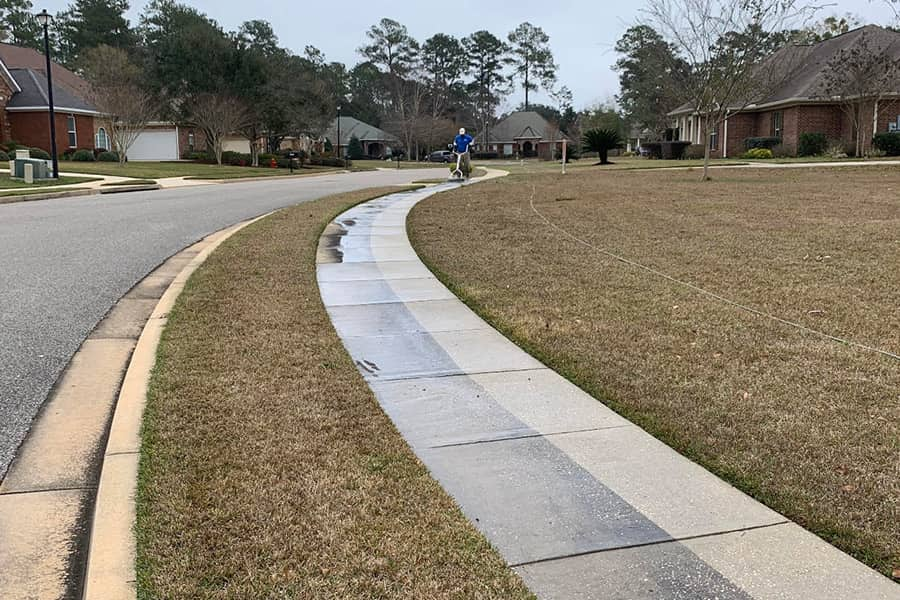 Accentuate the positive of your commercial property in Fairhope with a professional sidewalk cleaning job done by the well-trained, insured, licensed, and best-rated pressure washing pros of Taylor's Power Washing.
While sidewalk cleaning is greatly helped by simply sweeping away dirt and litter, removing pollutants and contaminants, oil, and grease, along with algae, mold, and mildew, are best left to a trustworthy pressure washing contractor.
Over time, regular wear and tear start deteriorating sidewalks. So, you'll want your commercial property's sidewalk and walking paths to look as good and hold up as long as they possibly can by using our experienced pressure washing pros for a sidewalk cleaning job.
Armed with a top-of-the-line commercial pressure washer, your Taylor's Power Washing professional can help restore your business's sidewalk to its former glory.
Environmentally conscious? Your pressure washing contractor will use environmentally safe, biodegradable chemicals to wash away:
Grime and dirt
Bird droppings
Oil and grease
Mold and mildew
All of which can cause your commercial property's sidewalk to deteriorate.
Another nuisance business owners contend with when it comes to their sidewalks and walking paths being ruined is algae, something the good folks in the Fairhope area can't seem to escape with all of our heat and humidity. Algae can settle into the porous surfaces of cement over time and, when left to its own devices, may cause the sidewalk to start splitting and cracking. Hiring a sidewalk cleaning professional to remove algae with their environmentally safe, biodegradable chemicals, can help prevent you from having to deal with costly sidewalk repairs later down the road.
If you want your business's sidewalk to look amazing and appealing to your customers, get a hold of Taylor's Power Washing expert right away.
Commercial Pressure Washing Projects