Asphalt Sealcoating In Fairhope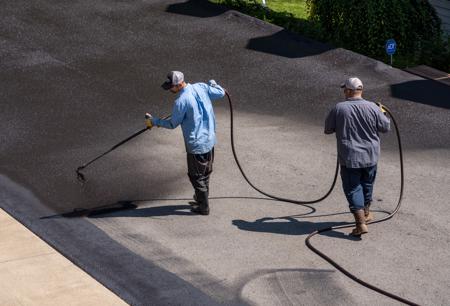 Although Taylor's Power Washing is known throughout Fairhope as a top pressure washing contractor, we're also a preferred resource for jobs like asphalt sealcoating. We're already taking care of projects like parking lot cleaning, so you know you can trust us for sealing these same surfaces. Our commitment to job excellence and customer satisfaction is unwavering, no matter what the task at hand is.
Professional sealcoating will drastically improve the lifespan and performance of your asphalt surfaces, which also means fewer repairs over the years. As asphalt ages, it begins to deteriorate, and conditions like harsh UV rays, vehicle traffic, and inclement weather worsen. However, you can add protection with asphalt sealcoating.
To prolong repair issues and delay the need for replacement, our sealcoating will be a game-changer. If you're looking for a cost-effective way to maximize the longevity of your parking lot or other asphalt surfaces, this is the ideal solution.
Take Full Advantage Of Sealcoating For Your Asphalt Surfaces
If you're planning on contacting Taylor's Power Washing for asphalt sealcoating, you're making good choices for your commercial property. Whether you own a parking garage as a business or have other asphalt components as part of your commercial property, sealcoating is a wise investment.
Avoid subsurface water intrusion
Improve skid resistance
Extend lifespan
Prolong deterioration from oxidation
Easier to clean surface
Reduce repair frequency
There's not a single good reason not to opt for sealcoating as an upgrade for your asphalt surfaces. Having a parking lot can benefit your business and generate more significant revenue unless it becomes a liability. Asphalt surfaces in poor condition can cause you to lose business and incur fines or liability expenses. Invest in your business by investing in professional sealcoating for your asphalt.
Protect, Beautify & Improve
As a professional pressure washing company, we've seen the vast difference it makes to have sealcoating in place. Even power washing the surface is easier, faster and makes a more dramatic difference when the top layer is sealed.
While sealcoating may not be a structural improvement, it does add a vital layer of protection. To schedule your asphalt sealcoating for your commercial property in Fairhope, call our team today.